William Drayton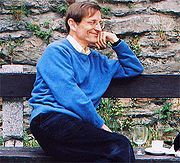 William Drayton, pioneer of the social entrepreneur movement, is
currently the Chairman and CEO of Ashoka: Innovators for the Public.
After graduating from Harvard, he received his M.A. at Oxford University
and a J.D. from Yale Law School. He served in the Carter Administration
as Assistant Administrator at the U.S. Environmental Protection Agency
where he launched emissions trading (ultimately incorporated into the
Kyoto protocol), among other reforms. Mr. Drayton has received numerous
awards and honors. In 2005, he was selected one of America's Best
Leaders by US News & World Report and Harvard's Center for Public
Leadership, and was the recipient of the Yale Law School Award of Merit.
In 2007, he has been awarded Duke University Center for the Advancement
of Social Entrepreneurship's (CASE) Leadership in Social
Entrepreneurship Award and the University of Pennsylvania Law School's
2007 Honorary Fellow Award..
Article
Rodrigo Baggio grew up in Rio de Janeiro loving computers. As he matured into an extraordinarily tall, thin man with a hugely wide smile, he became a computer consultant. However, from early on, he was one of the few in his generation who noticed—with concern—that the young people growing up in the favelas on the hills overlooking his middle-class neighborhood had no access to this digital world.