Vanessa D. Fisher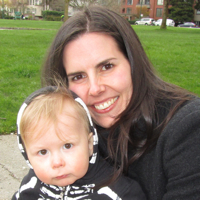 Vanessa D. Fisher is a published author, poet, public speaker, cultural critic, and self-ascribed Global Nomad with a keen interest in international issues as they intersect with gender, spirituality, art and culture. Originally from Canada, Vanessa is currently traveling and living around the world, working as an ESL teacher and volunteering for international organizations related to women's issues and sex trafficking.
In her early twenties, Vanessa completed her degree in Religion, Literature, and the Arts from the University of British Columbia and pursued her career as an author and public speaker on issues of gender, sexuality, pop culture and spirituality. At age twenty-seven, after years of working with many inspired spiritual leaders and organizations in North America, her passion for adventure and her desire to bridge cross-cultural connections with Asia and beyond brought her to live in South Korea for a year, which was the first stop of her nomadic pilgrimage around the world. At age 28, she currently resides in Moscow, Russia.

Vanessa's given Korean name is 초화 (Chohwa), which translates as "the first fire". She has gained a reputation for her holy irreverent spirit, her blunt honesty, her deep commitment to truth and justice, and her love for art and beauty in all its forms.
Article
Spanish Translation of Vanessa D. Fisher's article from Kosmos Journal Fall | Winter 2012 issue.
Translation by Paulina Alanis
Article
I am a young woman currently on a global pilgrimage—a philosophical, cultural, and spiritual inquiry that is deeply intertwined with the engagements of everyday life.
I'm a critical thinker, a poet, and a passionate activist who is committed to creating a future of global sustainability for all. I am currently in the process of deconstructing much of my own identity as a North American woman, along with the unconscious filters and biases that have been intimately woven into that identity, so as to consciously re-construct/re-birth my 'self' as a Global Nomad, as a daughter born of the liminal, and as a grandmother of the entire cosmic process.