Stephen Trimble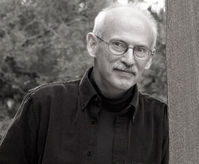 Stephen Trimble was born in Denver, his family's base for roaming the
West with his geologist father. After a liberal arts education at
Colorado College, he worked as a park ranger in Colorado and Utah,
earned a master's degree in ecology at the University of Arizona, served
as director of the Museum of Northern Arizona Press, and for five years
lived near Santa Fe, New Mexico. He has been a full-time free-lance
writer and photographer since 1981.
Trimble has received significant awards for his photography, his
non-fiction, and his fiction—and the breadth of those awards mirrors the
wide embrace of his work: The Sierra Club's Ansel Adams Award for
photography and conservation; The National Cowboy Museum's Western
Heritage "Wrangler" Award; and a Doctor of Humane Letters from his alma
mater, Colorado College, honoring his efforts to increase our
understanding of Western landscapes and peoples and his choice to remain
a stubborn generalist. Environmental historian James Aton has said that
Trimble's "books comprise one of the most well-rounded, sustained, and
profound visions of people and landscape that we have ever seen in the
American West."
As writer, editor, and photographer Trimble has published twenty
books. His bedrock focus is the land —western wildlands and natural
history— including:
Lasting Light: 125 Years of Grand Canyon Photography
The Geography of Childhood: Why Children Need Wild Places (with Gary Nabhan)
The Sagebrush Ocean: A Natural History of the Great Basin
Earthtones: A Nevada Album (with Ann Ronald)
Blessed By Light: Visions of the Colorado Plateau
Words From the Land: Encounters with Natural History Writing.

Trimble spent ten years listening to Southwest Indian people, and their stories fill his books:
The People: Indians of the American Southwest
Talking With the Clay: the Art of Pueblo Pottery
Our Voices, Our Land
He also contributes commentaries to local and national NPR shows, especially "The Savvy Traveler."
Trimble co-compiled (with Terry Tempest Williams) a landmark effort by
writers hoping to sway public policy: Testimony: Writers of the West
Speak on Behalf of Utah Wilderness. On March 27, 1996, Senator Russell
Feingold (D-WI) read Trimble's essay from Testimony, "Our Gardens, Our
Canyons," on the floor of the United States Senate during his plea to
protect Utah wilderness. He concluded with, "That short piece of writing
is so powerful…because it is a timeless statement about how people feel
about natural places."
Trimble makes his home in Salt Lake City and in the redrock country
of Torrey, Utah, with his wife and two children. From his attic studio
in the city, he looks out on the Great Basin and Wasatch Mountains,
writes at his grandfather's desk, and manages his stock photography
business.