Sam Lee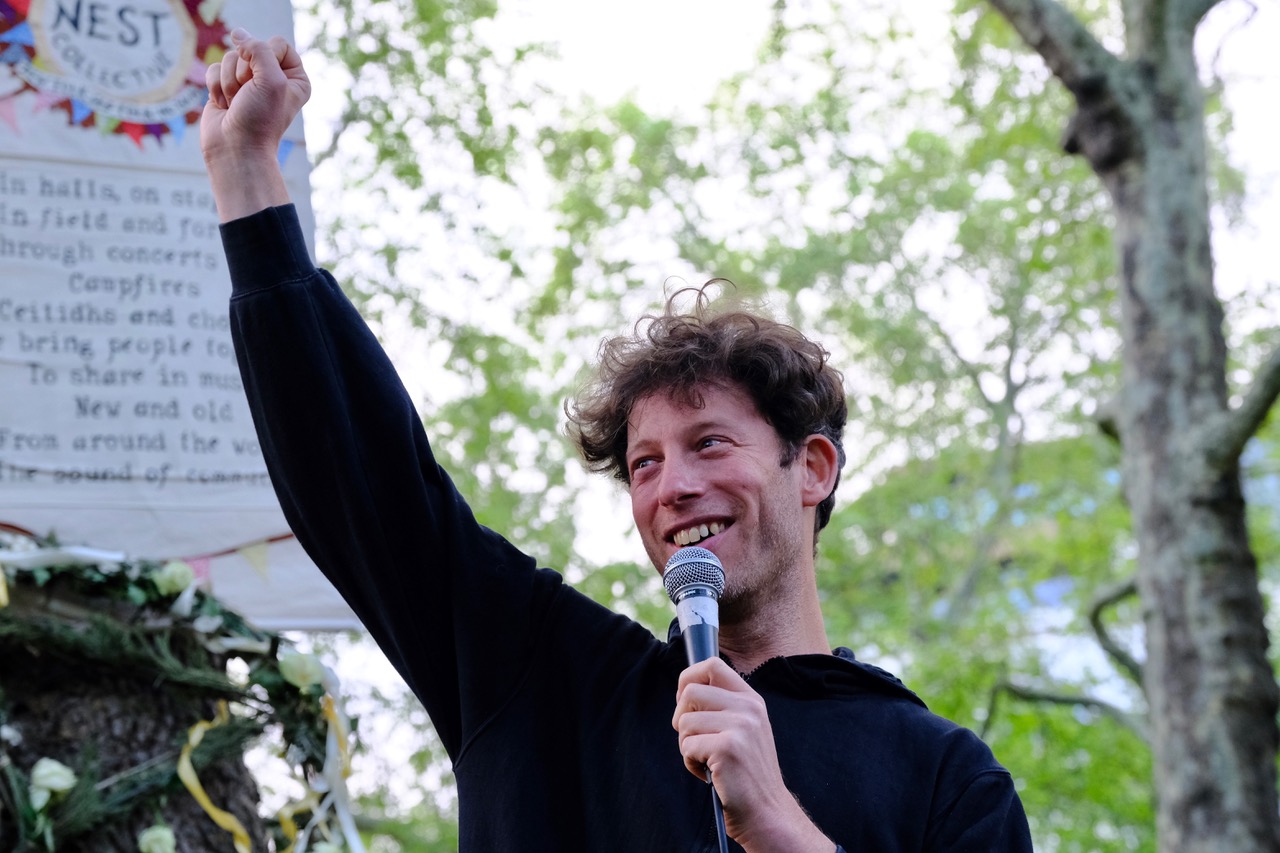 As an artist Sam traverses many worlds, challenging and pioneering folk music in diverse places and ways. Not just an award-winning singer with two highly decorated albums to his name and a sound incomparable to his contemporaries'; his work fostering live music in the UK has been instrumental in the explosion of folk of the last decade. Sam reinvents not just the way these ancient songs should sound but how they can be sourced, exist and thrive, from conscientiously gathering them in Gypsy Traveler camps to singing them for the Hollywood big screen.
Sam's debut album, 'Ground of its Own' was conceived after winning the prestigious Arts Foundation Prize in 2011 and nominated for the 2012 Mercury Music Prize. His second album, 'The Fade in Time' (2015) has been equally feted. At the BBC Radio 2 Folk Awards 2016, Sam was presented with 'Best Traditional Song' for his version of the song 'Lovely Molly'. During the ceremony, he performed the song live, backed by the 40-piece Roundhouse Choir, in front of a sold-out show at the Royal Albert Hall, London. The same week, Sam and his band of Friends were invited to perform the same song on BBC TV's 'Later with Jools'.
When Sam isn't busy performing, traveling and recording as founder of a burgeoning Song Collectors' movement, he's helped to inspire a new generation of performers to draw on living source singers, rather than just books and records. Though Lee is a thoroughly 21st-century artist, collecting new versions of old songs on his iPhone and laptop, his repertoire is steeped in folklore and history and inspired by the natural world.
In the past few years, Sam Lee has broken yet more new ground by taking his distinctive take on traditional English & Scottish music to more than 20 countries, including Japan and the USA, where he has toured twice. 'The Fade in Time' was released to acclaim in the US by Thirty Tigers and led to an appearance on NPR's coveted Tiny Desk show, as well as being included in their Top 50 albums of 2015.
Sam is no stranger to radio, where he has made regular appearances and where his music has featured across most BBC networks. On 19 May 2014, Lee performed 'The Tan Yard Side' to the accompaniment of a nightingale on Radio 4. This remarkable recording marked the 90th anniversary of the first-ever outside broadcast of 'Singing with the Nightingales' by cellist Beatrice Harrison. Following on from this experience, Sam has also now led a series of magical events in a Sussex wood, involving nights by the campfire and improvised musical interaction with nightingales during their annual migration from Africa. Sam has sung on BBC Radio 2 Drivetime for Simon Mayo and was featured by BBC Radio 3 in a series of new recordings of musicians with nightingales. He also presented a well-received documentary "Taking It All Back Home" on BBC Radio 3 based around American field recordings broadcast in April 2016.
Sam's most recent album 'The Fade In Time' was recorded at Imogen Heap's Hideaway Studio in Essex with co-producers Jamie Orchard-Lisle and Penguin Cafe's Arthur Jeffes. Sam Lee and Friends produced an album that extends the borders of national boundaries to encompass Bollywood beats, Polynesian rhythms and contemporary classical music with Lee's own field recordings, many of which have been handed on to him by members of the Traveller and Gypsy communities playing a key role. The Fade In Time roves the centuries and radically renews a living tradition, much like Sam does himself. Sam tours with his regular band comprising Jon Whitten on dulcimer/keyboards/ukulele, Flora Curzon on violin, and Josh Green on percussion. (© 2019 Sam Lee. All Rights Reserved.)
Links
https://samleesong.co.uk/  Sam's website
https://www.facebook.com/samleefolk/  Sam's Facebook page
https://twitter.com/samleesong  Sam Lee on Twitter
Journal Article
Sam Lee is a British singer of traditional folk songs, a collector, an archivist, a conservationist, and a radical re-interpreter of the British folk tradition.  He is the driving force behind the eclectic, award-winning folk club 'The Nest Collective', and an emerging figure in the Extinction Rebellion movement.