Remi Benali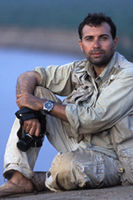 Remi Benali began his photography career in 1989 after receiving his
law degree. He worked with the photo agency Gamma for twelve years,
including three years as a Press Correspondent in New York City. He has
been working independently since 2002 and lives in Provence.
His
journeys have led him to over 80 countries — from the North Pole to the
Sahara Desert and the remote jungles of Sumatra to the high plains of
Tibet. Specializing in travel photography, his work depicts the living
remnants of a vanishing past with a focus on traditions, tribal cultures
and man's relationship with Nature.
To see more of Remi's work, please visit www.remibenali.com