Qasim Sabti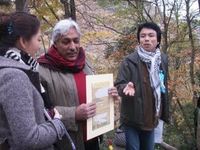 Born in Baghdad in 1953, Qasim Sabti became crippled as a
seven-month-old baby. Since he grew up in a neighborhood with many
athletes who were local heroes, he won attention by distinguishing
himself with his artistic abilities. As a teenager, students would pay
him a falafel sandwich for a drawing, or for one of his poems or love
letters in beautiful Arabic calligraphy.
Upon graduating from the Academy of Fine Arts in Baghdad in 1980,
Sabti established a workshop for Arabic calligraphy and painting.
Beginning in 1985, he taught at the Baghdad University of Technology,
and in 1986 participated in the first Baghdad International Biennial. In
1987, he returned to the Academy of Fine Arts to teach painting.
In 1992, Sabti founded the Hewar Art Gallery in Baghdad, which has
since become an important and active oasis for Iraqi artists ("Hewar"
means dialogue).
Steve Mumford, a New York-based artist who was embedded with the
coalition troops during several extended stays, described Sabti as "a
charismatic, handsome man in his 50s, who holds court most mornings in
the gallery and the garden in the back, where there is a charming café,
surrounded by lush plants and sheltered from the sun by a corrugated tin
roof supported by antique columns. It's the greenest place I've seen in
Iraq, and on this particular October morning it's buzzing with energy,
with groups of men and a few women talking animatedly." Mumford, who has
received critical recognition for his watercolors documenting scenes in
Baghdad, said that "Artists of Qasim's generation were the students of
the 'Pioneers,' the first generation of Iraqi artists to bring modernism
to Iraq."
Currently, Sabti serves as Vice-President of Iraqi Plastic Artists
Society, which has 1,780 members. He is also Secretary of the Iraqi
Cultural Council. His paintings are in private collections throughout
Europe, the Middle East, the United States, Japan, and Korea.