Marisa Handler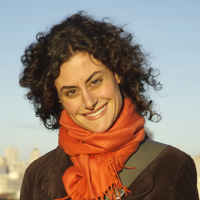 Marisa Handler was born in Cape Town, South Africa and immigrated to the US in 1988. Along the way she lived in Israel and backpacked around Southern Africa, the Middle East, Europe, South Asia and South America. She was active in organizing the global justice movement, the anti-war movement and a just peace for Israel-Palestine. She freelanced as a journalist and foreign correspondent. The title of her first book tells it all, Loyal to the Sky: Notes of an Activist.
She currently speaks and sings about visionary social change. Dark Spike is her first full-length album. She received a Fulbright fellowship in creative writing to India in 2010. She now teaches creative writing and songwriting at California Institute of Integral Studies. Ultimately, she says, whether writing, singing, speaking or teaching…it's all a love song.
Article
"We cannot wait until we are enlightened," says Marisa, in her compelling Kosmos article Alms Bowl Upside Down.
"I have participated in countless demonstrations, sung and spoken over numerous loudspeakers, and handed out scores of flyers. But this time was different. Typically those who aren't with us avoid us: passers-by chatter determinedly into their cell phones as they advance, shake their heads vociferously at flyers, veer around us. But this time it was as if our silence was contagious. Conversations died on lips…"