Leo Burke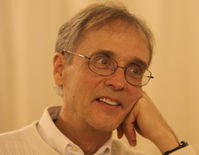 Leo Burke is Professor and Director of the Global Commons Initiative at the Mendoza College of Business, the University of Notre Dame. In this capacity he teaches courses on the commons to undergraduates, MBAs and Executive MBAs. From December 2000 through June 2008, he served as Associate Dean and Director of Executive Education. Prior to joining Notre Dame, Burke served in a variety of roles at Motorola, Inc., including Director and Dean of the College of Leadership and Transcultural Studies within Motorola University. He was a founding member of philosopher Ken Wilber's Integral Institute.
In 2009 he co-founded, with Carolyn Lee and Kathy Skerritt, the Anthroposphere Institute (www.a-institute.org), an educational organization that champions the global commons through courses and action-learning initiatives. Fundamental to the work of the Anthroposphere Institute is an understanding that the commons is fundamentally an expression of prior unity or the a priori indivisibility of all life.
He is also a co-founder with George Por and others of the Commons Knowledge Alliance, an educational and learning resource platform focused on the commons. He recently authored "A Common Matter," Kosmos Journal, November 2010.
He holds a B.A. in sociology from the University of Notre Dame, a M.A. in Political Science from Indiana University, and a M.S. in Organization Development from Aurora University."
Article
If I were to be marooned on a desert island and could take along only two commons-related books, they would be Elinor Ostrom's 1990 classic, Governing the Commons, and David Bollier and Silke Helfrich's The Wealth of the Commons. This remarkable anthology of seventy-two essays by authors from six continents represents a milestone in the commons literature.
Article
Dr. Terri Homan: "Six months ago I had never heard of the commons. Perhaps the starting point for a world movement is spreading awareness, so there are more banner-carriers to work toward the change in consciousness that is required. Unless a critical mass of world citizens demand change, it is too easy for the rest to look away." Terri is a physician in the Chicago area, one of 49 people from four continents who enrolled in Common Course: An Introduction to the Global Commons. The four-week program consisted of readings, on-line discussions and weekly conference calls. On one occasion economist James Quilligan joined as a guest speaker.
Article
What Is the Global Commons? While the term 'commons' has been in use for centuries in one context or another, […]