Dr. Hans Küng, et al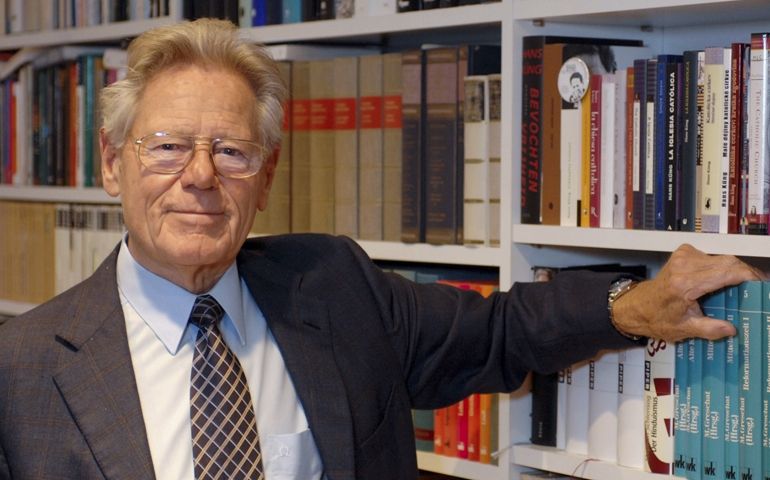 Hans Küng is a Swiss Catholic priest, theologian, and author. Since 1995 he has been President of the Foundation for a Global Ethic (Stiftung Weltethos).
In the late 1960s, he became the first major Roman Catholic theologian since the late 19th century Old Catholic Church schism to publicly reject the doctrine of papal infallibility, in particular in his book Infallible? An Inquiry (1971). Consequently, on 18 December 1979, he was stripped of his missio canonica, his licence to teach as a Roman Catholic theologian, but carried on teaching as a tenured professor of ecumenical theology at the University of Tübingen until his retirement (Emeritierung) in 1996.
For three months in 1981, he was guest professor at the University of Chicago. During this visit to America he was invited to only one Catholic institution, the University of Notre Dame. He appeared on the Phil Donahue Show.[7] In October 1986, he participated in the Third Buddhist-Christian Theological Encounter held at Purdue University, West Lafayette, Indiana.[8]
In the early 1990s, Küng initiated a project called Weltethos ("Global Ethic"), which is an attempt at describing what the world's religions have in common (rather than what separates them) and at drawing up a minimal code of rules of behaviour everyone can accept. His vision of a global ethic was embodied in the document for which he wrote the initial draft, Towards a Global Ethic: An Initial Declaration. This Declaration was signed at the 1993 Parliament of the World's Religions by religious and spiritual leaders from around the world. Later Küng's project would culminate in the UN's Dialogue Among Civilizations to which Küng was assigned as one of 19 "eminent persons." Even though it was completed shortly after the terrorist attacks of 9/11 (in September 2001), it was not covered in the U.S. media.
Journal Article
Toward a Global Ethic: An Initial Declaration was prepared to establish a shared ethical framework for all peoples across religious lines. It was drafted by Dr. Hans Küng with input from nearly 200 scholars representing many world religions and presented to the Parliament of the World's Religions in Chicago in September 1993.