Douglas Rushkoff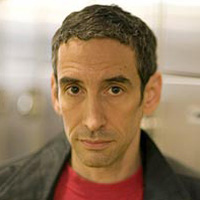 Winner of the first Neil Postman award for Career Achievement in Public Intellectual Activity, Douglas Rushkoff is an author, teacher, and documentarian who focuses on the ways people, cultures, and institutions create, share, and influence each other's values. He teaches media studies at NYU and the New School University, serves as technology columnist for The Daily Beast, and lectures around the world.
Rushkoff is on the board of several new media non-profits and companies, and regularly consults on new media arts and ethics to museums, governments, synagogues, churches, universities, and even Fortune 500 companies that are willing to listen to reason.
Rushkoff graduated magna cum laude from Princeton University, received an MFA in Directing from California Institute of the Arts, a post-graduate fellowship (MFA) from The American Film Institute, and a Director's Grant from the Academy of Motion Picture Arts and Sciences. He's finishing his dissertation on media literacy and gaming for University Utrecht. He has worked as a certified stage fight choreographer, an SAT tutor, and as keyboardist for the industrial band PsychicTV.