Daniel Fox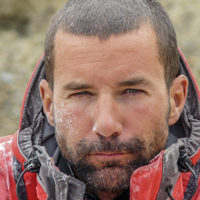 Daniel Fox follows in the footsteps of his childhood heroes, David Attenborough, Jim Fowler & Jacques Cousteau, traveling Earth's remote places. His lifelong passion for adventure and nature, and his commitment to inspire change and improving lives have led Fox to create The Wild Image Project, with for mission to motivate others and alter their perspective on global issues by aesthetically presenting content and ideas that stimulate engagement, involvement and transformation. He is member of the Explorers Club in New York, a Fellow of the Royal Geographical Society in London, an ETE (Education Through Exploration) Ambassador, a Blue Project Ambassador and a Planet Explore Visionary (a The North Face initiative that promotes the outdoors).
Gallery
The EPIC Expedition (Extreme and Polar Islands Conservation) is a modern tale of exploration and adventure to some of the most remote places on earth, structured within a framework of education, conservation and science. Through the capacities offered today by technology, the expedition will create an interactive and intimate, enticing and immersing format of narration, allowing the followers to travel virtually, as never before, to the very forefronts of modern-day exploration.
Gallery
Photography is an exchange between a subject and an observer. In my case, my subject is wildlife
and in these portraits there is a dialogue between the animal I am photographing and me.
My objective is to capture a photographic moment with the intensity felt at the instant the shutter opens. I create a composition in my mind and then shoot until I feel I have reached my objective. I believe in enhancing a reality, not creating a new one. Although I produce my work digitally, I try to my utmost capacity not to retouch and alter the images. What you see on these photos is an exact reproduction of what I saw through my lens at the moment of capture.