Spring | Summer 2006
Creating the New Civlization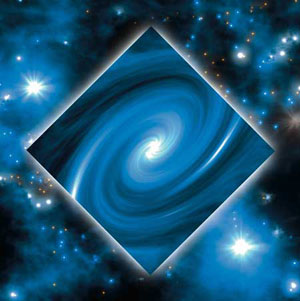 Image © Anne-Marie Pochat
FEATURE ARTICLES ON CREATING THE NEW CIVILIZATION
THE INITIATIVE FOR CREATING A NEW CIVILIZATION
by Hiroo Saionji
Hiroo Saionji launches the global initiative for creating a new civilization and invites us all to join. What are four key concepts for global change?
PATHS TO PLANETARY CIVILIZATION | EVOLUTIONARY
PERSPECTIVES

by Ervin Laszlo
A world-renowned evolutionary theorist and scientist presents
the dynamics of systems and cultural transformation for an endangered
planet. Radical transformation is required if humanity is to survive.
Read now
TOWARDS A NEW CIVILIZATION | GLOBAL GOVERNANCE
by Mikhail Gorbachev
A Nobel Laureate with a large-scale vision continues to explore global
governance for the 21st century. Where is the political leadership needed
to confront the three main challenges facing humanity?
BEYOND ECONOMISM | POLICIES GUIDED BY EARTH ETHICS

by Hazel Henderson
An extraordinary and effective activist for ethical economics offers a
balance of positive advances and challenges in critical global issues. Read now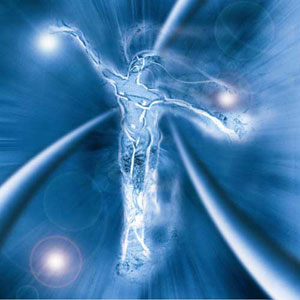 Image © 2006 Anne-Marie Pochat
VISIONING THE FUTURE
NEW SCIENCE | NEW HUMANITY
by Elisabet Sahtouris
In a stunning vision Dr. Sahtouris takes us on a journey to a positive future, based on her groundbreaking approach to evolutionary biology.
A PLANETARY CRISIS OF CONSCIOUSNESS
by Ashok Gangadean
A struggle for the soul of the planet is underway. We are experiencing an unprecedented shift from ego-mental cultures to global spirituality.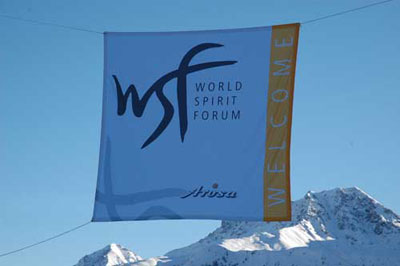 ON THE WORLD SPIRIT FORUM
AROSA DECLARATION
World Spirit Forum is affirmed as an ongoing forum for deliberations on
awakening global spirituality and consciousness. In an historic meeting,
spirituality is recognized as a key power for global transformation.
TOWARDS A SCIENCE OF INDIVIDUAL AND COLLECTIVE
TRANSFORMATION
by James O'Dea
Amazing research in the science of consciousness invites us to explore a whole ocean of interconnectivity and resonance.
RAISING CONSCIOUSNESS TO CREATE A NEW CIVILIZATION
by Masami Saionji
Someone else will not change the world. We must recognize our power and responsibility as individuals to make a difference now.
THE EMERGING WORLD CIVILIZATION
INTEGRAL MIND | INFINITE SENSITIVITY
by Nancy Roof
The emerging world calls for a shift of consciousness and cultural, political, economic and social transformation within individuals and collectives.
Integral minds and infinite sensitivity are needed.
ON WORLD WISDOM COUNCIL
MEMBERS OF THE WORLD WISDOM COUNCIL
CREATING A NEW GLOBAL CIVILIZATION | VISIONS AND REALITIES
THE TOKYO DECLARATION
What is the nature of the global crisis? What are crucial factors and some
initiatives toward a new civilization? Leading-edge wisdom leaders present
an integral vision for a Global Wisdom Culture that involves forging
new partnerships and networks for common cause.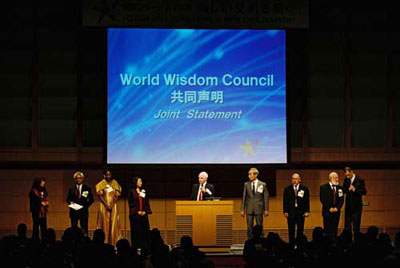 VOICES OF YOUTH
by Jacqueline Furtado and Oran Cohen
Spiritually inspired and ready for action, two extraordinary members of
the World Spirit Youth Council tell how young people are joining together
across the planet to create a new world.
FROM OUR READERS
Kosmos selected four articles by our readers. Their insights added a
whole new dimension to our thoughts. Read what they have to say.