Women Cross DMZ to Make Peace in Korean Peninsula
Women's Hope to End Longest Forgotten War
Thirty international women peacemakers from 15 countries walked across the demilitarized zone between North and South Korea on May 24, 2015, International Women's Disarmament Day. Our purposes were:
To call for the end of the Korean War by changing the armistice into a permanent peace treaty
To facilitate the divided family in North and South Korea to meet and communicate
To utilize UN Security Council resolution 1325, which requires women's participation in all peace processes, in the peace and unification process in Korea
When Korea was liberated from Japanese colonial occupation in August 1945, the Cold War hegemonic powers, US and USSR, divided Korea across the 38th parallel in order to make a bumper zone between the Cold War power blocks. Geographically, Korea was connected to China and the Soviets and was near to Japan across the East Sea. The powers assumed that the newly liberated Korea did not have the capacity to manage their own country so they stayed until the Koreans established their own government.
Without any legitimate consultation with Korean leaders, US troops occupied the South and Soviets controlled the North of the 38th parallel. Many Korean leaders opposed this idea, but the division happened against the Korean people's will. There were many political and ideological differences on how to reunify a divided Korea. In this complicated process, the Korean War broke out on June 25, 1950. On the surface, it looked like North Korea invaded South Korea. But it was a proxy war created by the Cold War hegemonic powers. It lasted more than three years and four million people died before a ceasefire was called on July 27, 1953. The armistice was signed by North Korea, which also represented China, while the US represented the UN command.
When the armistice was signed, they promised to have a peace conference within three months to change the armistice into a peace treaty that would officially end the Korean War. That promise of three months has been delayed for 62 years. The Korean War has become the longest war of suffering in both Koreas. The deepest suffering came from the tragedy of divided families. With the armistice, there was an establishment of a demilitarized zone (DMZ) between the North and the South where people could not cross over. People expected this division would be solved within a few months and separated families would meet soon with the end of the war. But, sadly, family members did not see one another for more than 62 years and are still waiting for the opportunity to meet before they die. The division structure also halted the democratization process for the South and the North. Political leaders in South Korea persecuted people with dissident voices by national security or anti-communist laws. Similar persecutions happened in North Korea. Throughout this process, human rights violations have escalated. It is hard to protect human rights when you are still at war.
Since the Korean War actually has not ended, both Koreas are spending too much of their national budgets on armaments— one tenth in the South and one third in the North. This creates militaristic societies where young Korean men have to serve compulsory military service for two years in the South and ten years in the North. Militaristic societies accentuate a patriarchal culture of domination and subjugation, cult of masculinity, and a culture of violence, silence, and obedience. Divided countries also have created divided personalities.
Both North and South Korean people have 6,000 years of history as one people—now they have become enemies. I still remember growing up in South Korea and seeing North Koreans with red horns, tails, and devil faces in children's books. North Korean communists were not only our enemies but also the devil to destroy. This enemy-making and demonizing of the other flourished on both sides of Korea. It has become so natural that we are now divided against ourselves. There is much suspicion regarding people's different ideological positions in our political movements. I think the fact that South Korea has the highest suicide rate in the world has something to do with this division. When your physical landscape is divided and polarized, it is hard to keep your psychic landscape healthy and wholesome.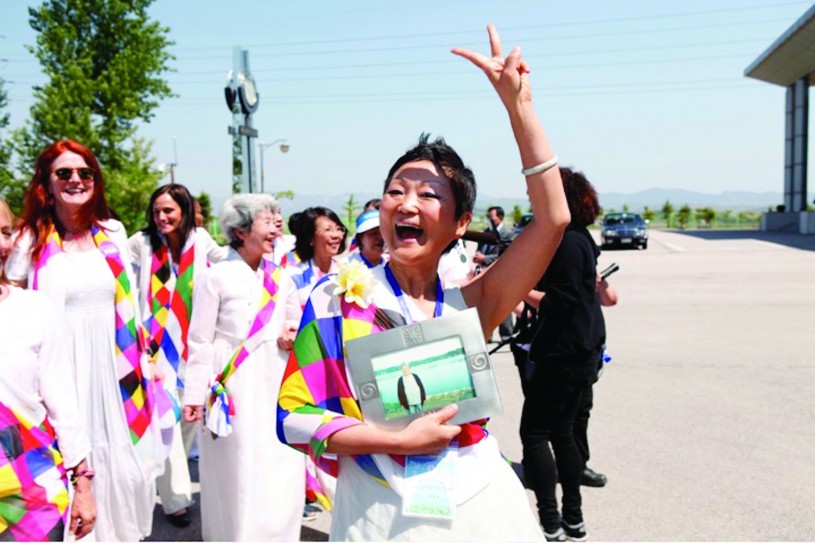 Even today, many international parties have political and military interests in the Korean peninsula and they participate in 'Six Party Talks' to solve the 'Korea Crisis.' US, China, Russia, Japan, North Korea, and South Korea have tried to solve the nuclear development issues of North Korea and many other disagreements in the 'Six Party Talks.' But they have not reached any workable solution. It is astonishing that they have not invited women to participate in their talks all these years. All of them must have been aware of the UN Security Council resolution 1325. Nonetheless, women have not been invited to negotiate the conflicts.
We, however, have witnessed that long-lasting conflicts have been solved or lessened by creative women's peace initiatives around the globe in recent years. Nobel Peace Laureates Mairead Maguire from Northern Ireland and Leymah Gbowee from Liberia have shown powerfully how their women-centered creative peacemaking finally has brought much waited peace in their countries. Many of us who participated in the 2015 Women Cross DMZ were greatly inspired by their work and tried to launch women-centered peace initiatives in the Korean peninsula.
Power of Dream to Imagine Women Cross DMZ
In the beginning of the 2015 Women Cross DMZ project, there was a dream. Christine Ahn, a Korean American peace activist, had a dream after she saw the news that North Korea had opened a dam gate due to flooding, which caused the death of several families in South Korea. These people had been camping by the river on their vacations. At that time, North and South governments were in a frozen relationship and their communication route became disconnected. Christine felt sad and angry about this reality and went to sleep. A dream visited her.
Christine was by the river the morning of these deaths and saw candle-like lights flowing in the river. She followed the lights and walked. She saw divided families meeting by the river and crying. The lights kept flowing. She walked more in search of the origin of these lights. She witnessed a circle of women cooking together in a big pot, churning the ingredients with big spoons. When they put what they cooked in the river, it became light. Christine woke up and knew that unification of Korea would come with the power of women.
After this visionary dream, she found out that a biker's group from New Zealand had crossed the DMZ after getting permission from both North and South Korea. Later, she also discovered that Korean-Russians had also crossed the DMZ to express their wish for the peaceful unification of Korea. These incidents encouraged her and she gathered a group of us—international women peacemakers—who were willing to carry out the vision together. We started the proposal of international women peacemakers crossing the DMZ through Panmunjom, where the armistice was signed to call for an end to the Korean War. She sent the proposal to North Korea, South Korea, and the UN command.
North Korea said a clear 'yes' to this proposal first and the UN command also gave us a green light and indicated that they would support our work if both Korean governments accepted our proposal. It took a long time for us to get the final approval from South Korea. We expected that we would have a supportive answer from the South Korean government quickly because we had the first woman president in Korean history and she had declared that "unification of Korea will be the greatest thing for us." We also expected strong support from the UN because Ban Kimoon, the UN Secretary-General, is a South Korean citizen. Our honorary co-chairs of Women Cross DMZ, Gloria Steinem and Mairead Maguire, wrote letters on our behalf to the President of Korea Park Geun-hye and UN Secretary-General Ban Ki-moon. But there were no answers from them. We had a press conference at the UN in March 2015 to declare our intention to cross the DMZ. Finally, thirty of us embarked to Beijing in order to go to Pyongyang, North Korea. One day before our departure to Beijing on May 15, 2015, the South Korean government gave us a green light with a recommendation that we cross the DMZ via Kyeongeui railroad way and by bus, not by walking though Panmunjom.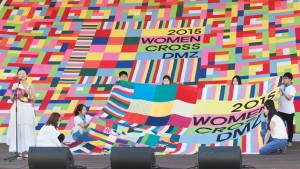 After much preparation, we made our first women-only citizen's diplomacy by crossing the DMZ and calling for peaceful reunification in the Korean peninsula. There were many important encounters in our crossing in both North and South Korea. I cannot write about all the details regarding these encounters due to limited space in this article. Therefore, I will reflect on the most important experiences that left me with lasting impressions and much food for thought for peace and unification.
North Korea: "These people are not that different from many of us."
It was the first time for me to visit North Korea. Out of many experiences, three stood out. They were:
Women's Peace Symposium at the People's Palace in Pyongyang
Women's Peace Walk in Pyongyang and Kaesong
Visiting Panmunjom and the Women Cross DMZ's Peace Declaration in Panmunjom
The Women's Peace Symposium at the People's Palace in Pyongyang was the most moving experience for me during the entire trip. It was so rare to hear all women scholars, activists, and witnesses talk about the meaning of the Korean War and the Peace and Unification process in the Korean peninsula. Previously, these kinds of discussions have been mainly carried out by men. There were hundreds of women in the People's Palace. We started the symposium hearing about the trauma of the Korean War experienced by North Korean women. They said there were carpet bombings by Allied Air Forces and not even one building remained whole after the war. A woman in her 70's had her two arms cut off by an angry American soldier when she was a child. She was crying all through her confession. North Korean women witnesses seemed to suffer from more than sixty years of posttraumatic stress syndrome; they looked as if they were genuinely afraid of being bombed again by the US at any time. North Korean women scholars also shared their views about the destructive impact of US economic sanctions and military threats in everyday civilian life. Food and medical shortages, especially for women and children, have made North Korean people suffer tremendously. They proposed ending the Korean War by signing a peace treaty and making peaceful unification between North and South Korea by our own efforts, without foreign intervention. International women peacemakers also shared their own experiences of peacemaking in their contexts.
The most moving moment in the peace symposium for me was a quilt-making ritual among North, South, and international women delegates. We prepared quilts in our respected communities and brought them to the peace symposium. At the end of the presentations, we took out our quilts and stitched them together as one big quilt. Then we sang the "Our Wish is Unification" song. Many women cried and embraced one another regardless of our nationalities—even from so-called 'enemy countries.'
Our peace walks in Pyongyang and Kaesong were also moving experiences. Thousands of North Korean women in traditional Korean dresses came out to welcome us and walk with us. We shouted 'unification!' together while we were walking. Many of us were in tears. In our crying together, yearning for peaceful unification of Korea, I felt unification had already come into women's hearts. Now we have to find a way to manifest this unification of the heart into more public areas such as cultural, economic, and political realms.
We had another high moment at Panmunjom. North and South Korean and international women surrounded the table where the armistice was signed. We opened our peace quilt and walked around the table several times singing "Our Wish is Unification." At that moment, I felt we had already changed the armistice into a peace treaty in our hearts. We had our peace declaration in Panmunjom. You can see the full contents of the declaration at our website (www.womencrossdmz.org). Then we crossed the DMZ through the Kyeong-eui line and came to the South side.
South Korea: "We are Pro Peace, not Pro North."
As a South Korean person, I expected a very comfortable entry to South Korea. But it was not the case. Because some right wing conservatives and media accused some of us as being 'Pro North,' there were thousands of people waiting for us. A majority of them demonstrators who opposed our walk, and a thousand police came to protect us from possible attacks from demonstrators.
Out of many, three events were most significant to me:
Peace Festival in Imjingak Peace Park
Welcome dinner by the South Korean women's groups
Peace symposium at the Seoul City Hall
When we arrived in Paju, South Korea, thousands of people welcomed us with much joy and appreciation for Women Cross DMZ. They walked with us, hugged us, and took pictures with us. At the Peace Park, many singers and performers volunteered their talents to celebrate this historical crossing. There we sang together "Our Wish is Unification"—again in tears, as we did in North Korea. The Korean DMZ is only 2.5 miles wide; it is just three hours from Pyongyang to Seoul. North and South Korea are that close physically, but we are so far away ideologically. Both Koreas long for unification and sing the same song, "Our Wish is Unification," but we have not been able to cross that short DMZ for 62 years to see our divided family.
Many Korean women leaders from the women's movements came to the dinner sponsored by women and the family foundation of the city of Seoul to congratulate Women Cross DMZ. They expressed their genuine appreciation for our effort because the North and South relationship is so frozen at this moment that there is no communication. South Korean women leaders think we made a small hole to breathe, to have light, to allow water to flow for our peace and unification process. The next day, we had a peace symposium at the Seoul City Hall. There we had an excellent keynote speech by Kim Lee Hyun Sook, a long-time woman peacemaker who visited North Korea many times under late president Kim Dae Jung's 'Sun Shine Policy.' From her lecture, we learned that we had held many communication and dialogues between North and South women under the Kim Dae Jung and Roh Moo-hyun government. But everything is stopped now under the hard line policy of the conservative government. We also learned much from international women's sharing of their peacemaking cases.
The best learning I received from the 2015 Women Cross DMZ event was that ordinary people's heart-to-heart, person-to-person, frequent encounters (track 2 citizen diplomacy) will eventually bring the long awaited peaceful unification of Korea. This encounter will free us from demonizing and enemy-making habits and will help us to understand, befriend, and to finally reconcile divided countries. For this work, women's participation and international solidarity will play a great catalyzing role. Women Cross DMZ 2015 took a significant step on the long road to the peaceful unification of Korea. I would like to celebrate our 'Her-storical' success and give my deepest appreciation to thirty brave women.
After all… Sisterhood is still powerful.